Reinvented careers site attracts fresh talent to a centuries-old global bank.

Founded in 1856, Credit Suisse has grown into a global private and investment banking behemoth with operations in more than 50 countries and 48,200 employees from more than 150 different nations.
But their online efforts to recruit new talent — essential to the bank's ongoing evolution and success — were hampered by an online presence that had grown as complex as the institution itself. More than 60 separate recruitment sites, tailored to specific regions and geographies, lived under the Credit Suisse umbrella, causing career-seekers to get lost in the labyrinth of a frustrating navigation structure.
Credit Suisse challenged Sequel to make it better — and make it fast, with a mandate to launch the reimagined site before the 2016 college recruiting season.
Our information architects got to work, reducing redundancies and complexities in the content, and consolidating them into a single, seamless digital experience designed to serve the client's needs both globally and locally. Then Sequel led all design and photography efforts, including the creation of engaging infographics that let potential employees glean big-picture facts about the bank's business and culture, all at a glance. In addition, our creative team visually aligned the offline recruiting vehicles to deliver a fully integrated campaign.
A bold image style focused on the individual strengths and personalities of current employees, putting a tangibly human face on an otherwise impersonal institution. Sequel directed and captured photos of Credit Suisse employees across the globe within a very tight time frame.
The resulting site, applauded widely within the client's global recruitment community, makes it much easier for potential hires anywhere in the world to learn about the bank's culture and opportunities, discover open positions that match their skills, and apply for specific jobs — all within one friendly, integrated and informative experience. For Credit Suisse, it achieves the business objective of dramatically simplifying the ceaseless, ever-evolving task of talent acquisition in a competitive and fast-paced financial recruitment environment.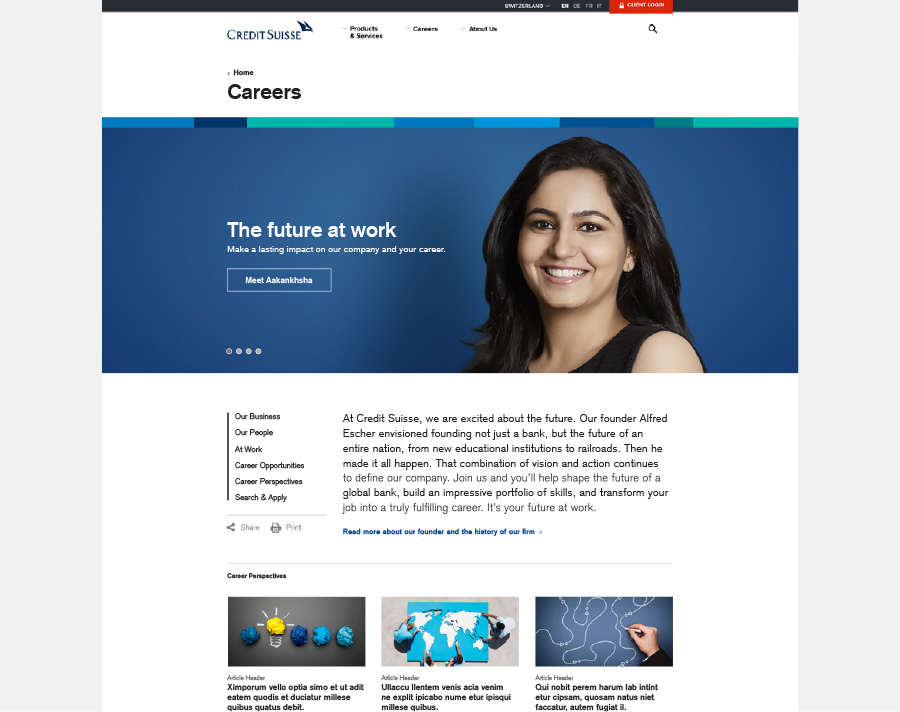 News

In August 2019, Sequel Creative Director David Phan had the honor of acting as a judge at MerComm Inc.'s ARC Awards. Dubbed the "Academy Awards of annual reports" by the financial media, the ARC Awards is the world's largest international competition honoring excellence in annual reports and corporate communications. "In times […]

News

New York, NY — Strategic branding and digital agency Sequel today announced a partnership with HELP/PSI to reposition and rebrand the New York City–based community healthcare services organization. Serving more than 13,000 individuals and families through their 13 locations, HELP/PSI targets underserved communities throughout the Bronx, Brooklyn, Manhattan and Queens. As […]

Insight

For more than 20 years, the Harvard Clinical Research Institute (HCRI) has been a leader in cardiac and other device and drug studies, helping to advance health and quality of life around the world. And, while the HCRI name showcased its relationship with the Harvard Medical School, it also hampered its […]